The Annual National Conference on Women's Peace and Security began in Juba on Wednesday 25th October 2023, calling for civic education and preparation for anticipated general elections in 2024.
The Conference focuses on women's political participation, the constitution-making process, federalism, electrical, the role of media, and many other topics. More than two hundred women across the country are taking part in the conference.
Minister of Interior, Hon. Angelina Teny says this is the high time for women to start engaging in preparation for the elections.
"So we need to now think consciously, how we are going to be part of all these instruments and mechanisms that are going to be involved in ensuring a safe environment, for all the women and all the candidates to campaign."
Hon. Angelina encourages the women to work hard to ensure their internal democratic processes contribute to a free, fair, and credible election in 2014.
"You have to work hard to ensure that your internal democratic processes contribute to a free, fair, and creditable election that will ensure the participation of the women and other sectors of society."
Hon. Teny revealed her Ministry role to promote free, fair, and credible elections through maintaining security across the areas in South Sudan.
Eve Organization for Women, representative, Jacqueline Natepo, says this is a moment for women to position themselves and effectively contribute to shaping the future of South Sudan.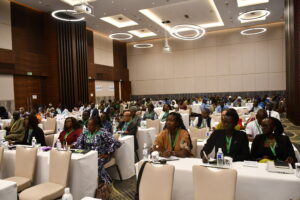 "This period presents an opportunity for all women in South Sudan to position themselves and effectively to the shaping the future of South Sudan, for us, our children in the future generation to come especially peaceful stable inclusive and developed South Sudan."
Natepo adds that women need to participate in the coming election as it's getting to the end of the transitional period. She calls on women to take the conference seriously because women are a key part of democracy.
The Kingdom of the Netherlands's Ambassador to South Sudan, Miriam Choppers says much has been achieved since the adoption of the UN Security Council resolution.
She is worrying that the implementation of women's peace and security is left behind. Choppers believes that a real measure of the strength of democracy is to measure the strength of women.
The two-day annual National Conference on Women is organized by Eve Organization under the theme, "Building Inclusive Democracy: Women's Leadership and Political Participation.
The post Women, Peace, and Security Conference underway in Juba appeared first on Catholic Radio Network for South Sudan and Nuba Mountains | CRN.